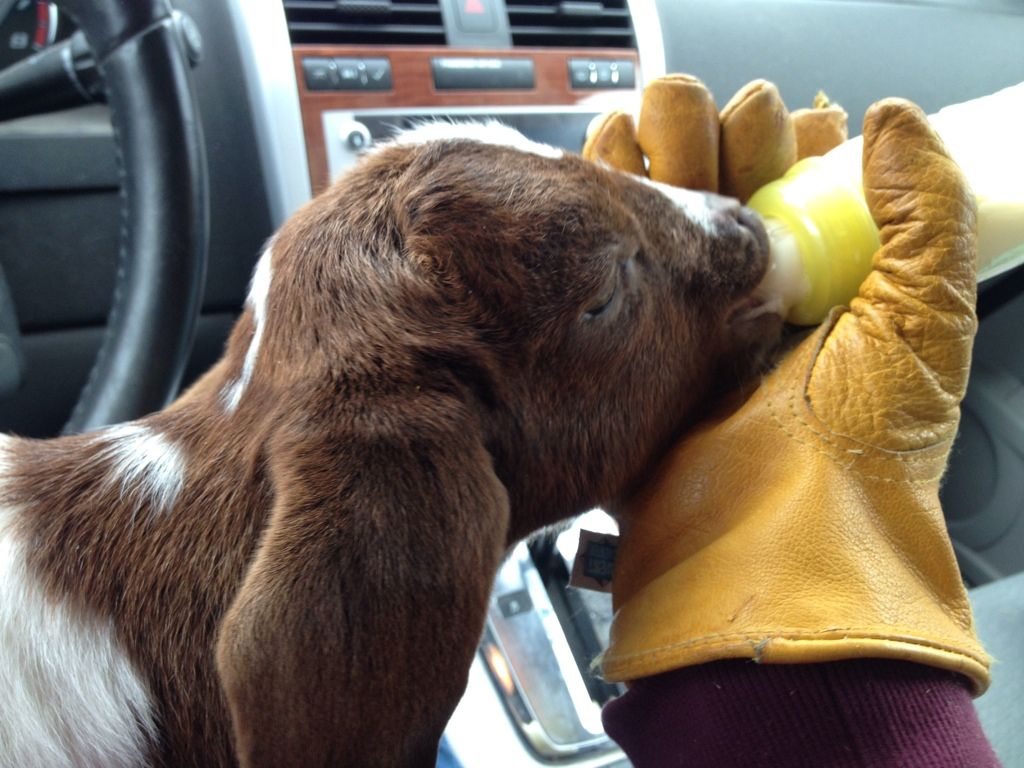 The past two weeks have been pretty hectic. Big Momma has tried mightily to provide for three kids, but we ended up supplementing the smaller one with two bottles a day. Since we don't live at El Rancho (yet), we could either bring the baby home and let him stay in the backyard alone; bring a 'mini-herd' to the backyard, consisting of Big Momma, all three kids, and a wether; or leave the kid at the ranch and take the bottle to him. Since someone goes to the ranch most days, we elected to take bottles to the kid.
What a sweet buckling. Big Momma and the kids would line up at the gate, ready to move to another pasture where I was serving grain and milk. The buckling began to thrive and we began to look at our options again. On Thursday, luck sent a buyer our way, a woman whose teenage daughter wanted a pet-- either a pig or a goat! We talked on the phone and I realized that she was aware of thrice daily feedings for a while, when he would need shots, etc. She lives 30 miles away from College Station and the ranch is 30 miles beyond College Station, so we decided to meet up at
Tractor Supply
on Saturday.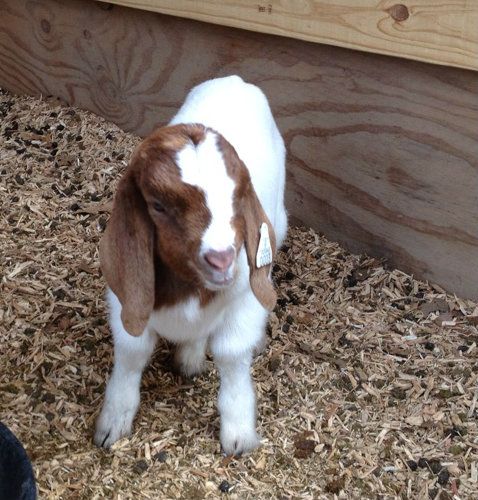 "After You"-- sold!
Danny rode with me from the farm to TSC, holding the soft buckling in his lap. We parked next to the buyers and made introductions, including the goat. He was an instant hit, making cute baby goat noises and snuggling his new owners. While standing there, a woman walked over.
"Is that a baby goat?"
she asked.
"Is it for sale? Do you have more? Do you have a card?"
For a moment, I was speechless. Someone was approaching me, asking to buy a goat! I told her I was out of cards, but wrote down my number and email address, telling her I hoped to have more kids for sale soon, and what type of goat was she looking for? (Note to self--- print some business cards).
Today, the whole family went to the ranch to check on the critters and throw some hay. Dan moved a round bale closer to the Triangle Pasture and I noticed one of the pygmy does looked closer to kidding (well, maybe). Half-hearted attempts to catch her for a physical exam failed, but Danny and I are going out tomorrow to work on the Middle Pasture, so we'll check then.
On the way home, we called in an order for burgers at
Koppe Bridge Bar & Grill
. It was early for dinner and we were the only customers, so I struck up a conversation with the barmaid. Naturally, the talk turned to goats and I learned she wanted to buy a pygmy goat (!!). Well, I says, I have two pygmy does, ready to pop within the next few weeks! I'm out of cards, but could I drop one off for you in a couple of days? (Second note-- Business Cards!)
Dubble-Stuft a pregnant pygmy
So, a potential buyer lined up before the kids hit the ground. The Dans wanted to know how I knew the girl wanted a goat, how the conversation turned to goats, but my pathetic explanation didn't satisfy their curiosity. What can I say? It's the gift of gab.
The farm needs to turn a profit, and selling goats is how that happens. I can always take goats to a livestock auction, but the price is uncertain, but costs are low at $6 per goat plus gas. I can also sell goats as pets, or as 4H projects (wethers), or as breeding stock, or as cabrito. There is also a buckling market for Muslim holidays. I feel that I will find my niche, which will probably include two or three of the markets. Now, for those business cards...